February 8, 2023 in Citybiz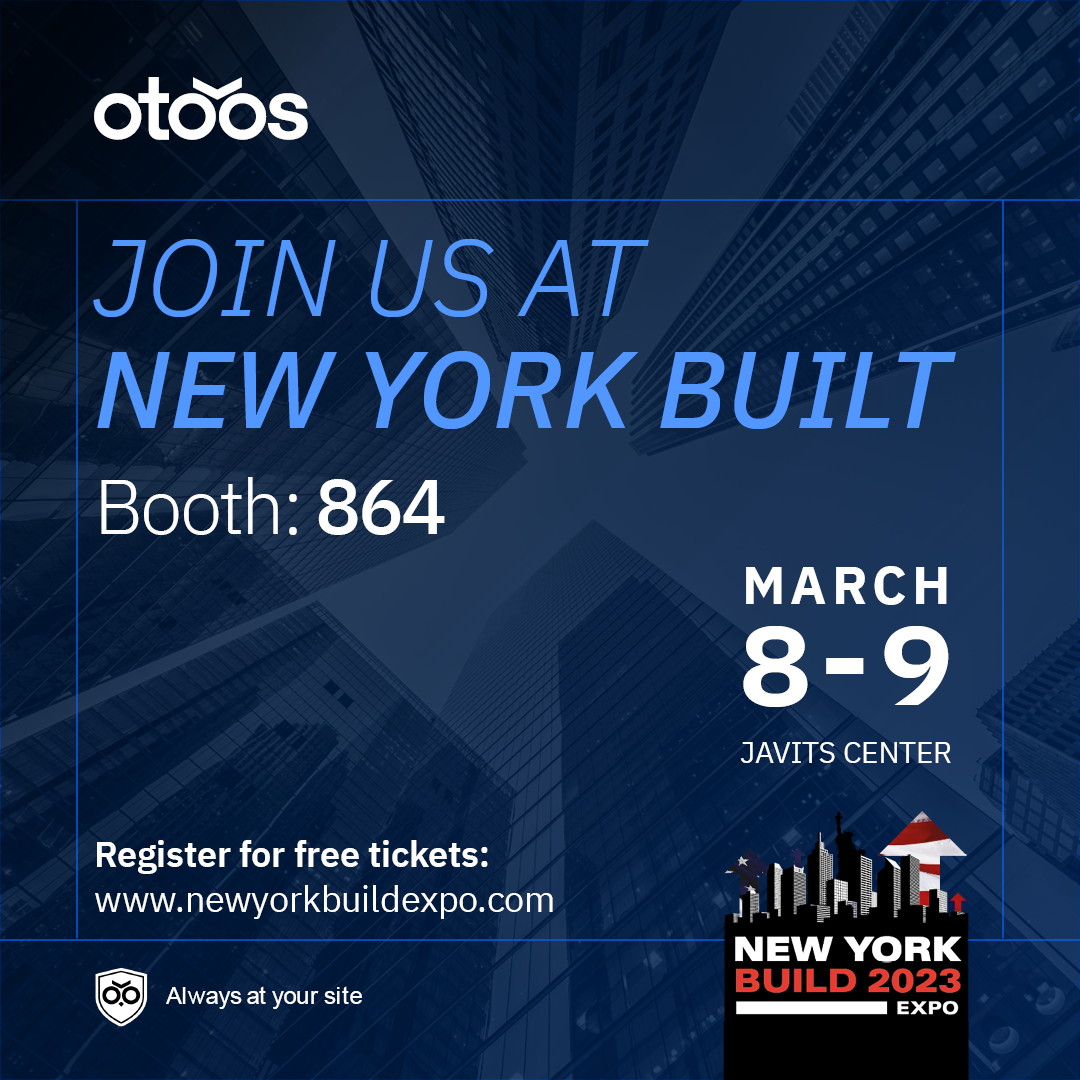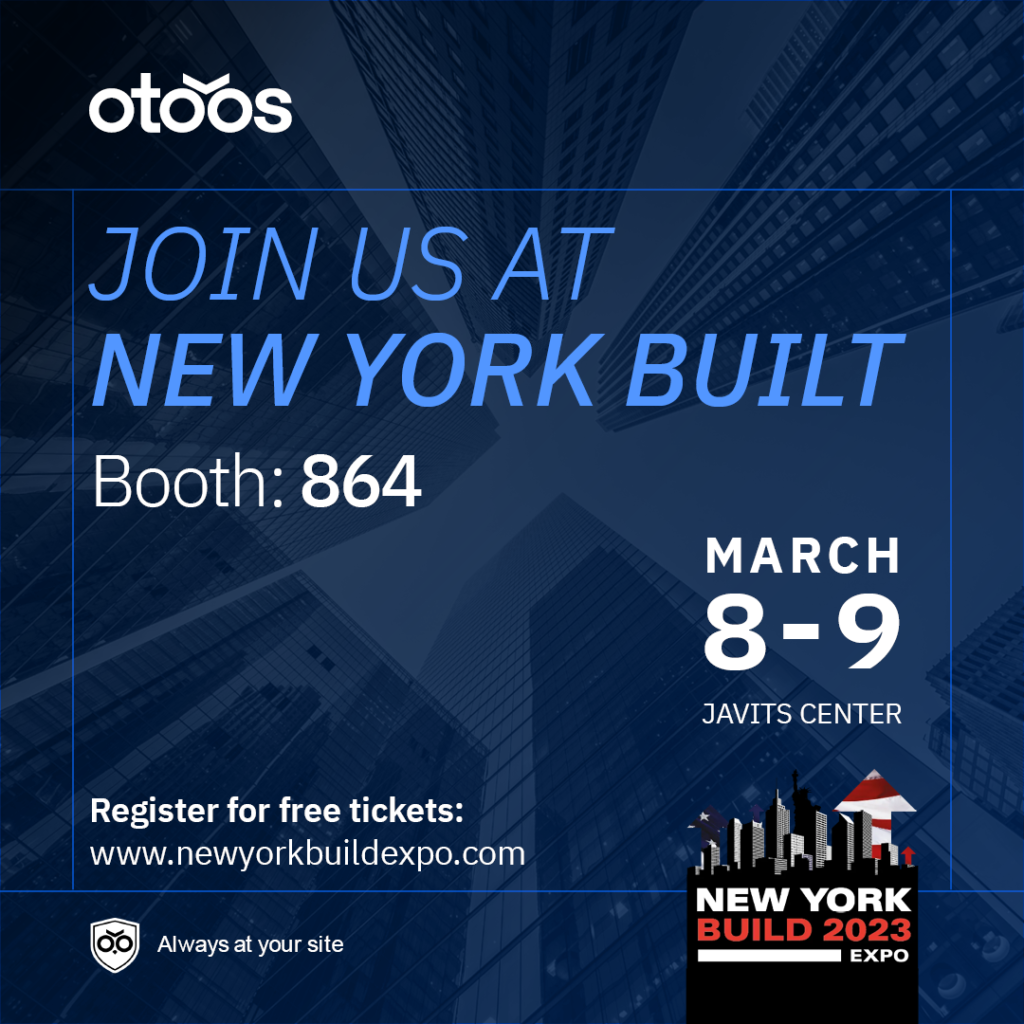 Otoos is pleased to host an upcoming panel at New York Build 2023 located at the Javits Center. The panel, which is titled, "Technology in Construction Safety: Finding a Reliable Source of' Truth,'' will take place on Thursday, March 9, 2023 from 10:00 AM to 11:00 am and will feature industry experts as they discuss how construction safety can be ensured.
The panel will consists of 6 speakers:
Linda F. Martin, Principal – KLME Martin Associates LLC
Kyle Becker, Director, Construction – Carmel Construction
Mark Drozdov, OSHA Authorized Instructor, University Professor, Environmental Health & Safety, The Cooper Union
Ashraf Omran, P.E., Executive Director of Cranes and Derricks – NYC Department of Buildings
Doron Netanel, CFO at Electra USA, Inc. | CEO & President of Electra's Captive Insurance Company
Michael Rubin, OSHA Defense Attorney – Ogletree Deakins
"We are thrilled about the opportunity to bring together industry leaders for this panel discussion," says Yaron Goldman, General Manager of Otoos. "We look forward to these great minds coming together and we hope everyone will depart with a new perspective on using Data Driven Technology to ensure construction safety and protect workers' lives."
Dr. Linda F. Martin
Linda F. Martin, PhD, MBA, PMP, CIH, CSP, MSP, CHMM is the Principal of KLME Martin Associates LLC, a global occupational health and safety, risk management, and industrial hygiene consulting firm specializing in construction industry safety and risk. Dr. Martin's firm provides expert technical assistance, OSHA violation support, and safety program inspection and auditing services to a wide-range of construction management, general contractors, and specialty trades firms.
Dr. Martin holds a PhD in Occupational Health and Safety, an MS in Occupational Safety Management, an MBA, and a BS in Geology. She is a past-president of the Board of Directors for the Board of Certified Safety Professionals (BCSP; 2018 and 2019); past-chair of the Board of Trustees for the BCSP Foundation (2018 and 2019); the 2018 National Safety Council Marion Martin award winner; and the 2021 Board of Global EHS Credentialing ABIH Impact award winner. Dr. Martin is a graduate of the Berkeley School of Law's Sustainable Capitalism and ESG certificate program and a current At-Large Board Director for the Board of Global EHS Credentialing, and participates as a faculty and industry advisory board member at several U.S. universities.
Kyle Becker
Kyle Becker joined Carmel Partners in 2016 and currently manages construction operations as Director of Construction for the New York region. He oversees day-to-day operations for multifamily construction projects from pre-construction through closeout.
In his 14 years of experience in New York Construction, Mr. Becker has been responsible for the construction of numerous complex, large scale projects in the healthcare, education, life sciences, commercial office and residential sectors including such notable projects as St. Francis Hospital, the Alexandria Center, New Settlement Community Center and the Canon Americas Headquarters. Most recently he has managed several large-scale multifamily projects including 50 West Street, a 64 story, 191-unit, 520,000 sf luxury condo building and 19 Dutch, a 64 story, 483-unit, 520,000 sf luxury rental building.
Mark Drozdov
Mark Drozdov, MS, SSM, CUSP, CSR, CRA, FSM, BSI, RSO, CAI, CMA, GPRO has been recognized as the Best Management Practices Subject Matter Expert (SME) in Environmental Health & Safety + Sustainability (EHS+S), Standards with over 30 years of Industry Experience & Regulatory Compliance. Mr.Drozdov is a Certified Utility Safety Professional (CUSP) w/Civil Endorsement, Licensed Site Safety Manager (SSM), Construction Superintendent Registrant (CSR), Certified Risk Assessor (CRA), Certified Mold Assessor (CMA), Certified Lead Auditor ISO 19011, 14001, 45001. Additionally, Mr. Drozdov is a University Professor in EHS+S at The Cooper Union for the Advancement of Science and Art, Rutgers U. School of Public Health, Columbia, NYU, CUNY/Hunter & City Colleges, and Stevens Institute of Technology.
Mark has served on various Industry Experts' Panels on the subject represented by the acronym P.A.L.M.S. (Pandemic/PCBs, Asbestos/Arsenic, Lead/Legionella, Mold/Metals, Silica/Safety/Sustainability) and is EPA, OSHA, NY, NJ Instructor for Lead, Asbestos, Mold, HazMat, HAZWOPER, EHS Standards, and Legal & Health-effects topics.
Mr. Drozdov has successfully completed numerous and diverse projects in EHS Consulting and Regulatory Compliance, HazMat Inspections and Sampling, Audits, and Certification Training. Co-founder Creative Environment Solutions (CES) Corp./now BSI EHS Services and Solutions Inc.
Ashraf Omran
Ashraf Omran, P.E. is the Executive Director of the Cranes and Derricks unit for the NYC Department of Buildings, the regulatory agency responsible for the safe and lawful use of nearly 1.1 million buildings and more than 45,000 active construction sites. He has been with the Department for more than 10 years.
Previously, Mr. Omran was the Director, Technical Director, and Executive Engineer of the Cranes & Derricks Unit. He is the Chair for the NYC Crane Advisory Committee, which has been updating NYC's codes and rules for cranes, already the most stringent in the world. Under his leadership, the Department has implemented several new initiatives this year for the hoisting machine industry, including new crane modernization requirements, requiring the installation of event loggers, and implemented an industry-leading code revision process, the first major change in crane regulations since 1968.
Mr. Omran has over 25 years of combined experience in engineering, safety, and construction management services. Mr. Omran is a licensed NYS Professional Engineer and Site Safety Manager.
Mr. Omran was recently awarded with a Certificate of Recognition from Mayor Bill de Blasio at the 2019 State of the City Address for going above and beyond the call of duty to serve our city and to promote development and construction safety.
Doron Netanel
Doron Netanel joined Electra USA in 2020 as CFO for the U.S. activity of the Electra Group, a well-established international construction firm based in Israel (TLV: ELTR) The Electra Group is active in 17 countries around the world generating $3B in revenue.
With 20 years of experience, Mr. Netanel has successfully held various positions in Israel and New York in construction, real estate development, Public-Private Partnerships (P3s) and implementing technology & IT systems.
As the CFO of Electra USA, Mr. Netanel oversees the financial, compliance, insurance, and IT of its three operating companies: Gilston Electric, F.W. Sims, and Hellman Electric. The primary activities involve electrical, mechanical, and HVAC contracting for large, high-profile, public, and private projects. Engineering News-Record has ranked Electra USA among the top Specialty Contractors for the last three years.
In this role, he established and manages Electra USA's Captive Insurance Company in New York. Mr. Netanel recognized that the Captive Insurance program is a solution, that will be able to support Electra USA's risk management goals and objectives by providing access to operational and financial benefits, and most importantly safety.
Michael Rubin
Doron Netanel joined Electra Michael Rubin focuses his practice on issues involving occupational safety and health law. He advises and represents employers across multiple industries and around the country in connection with OSHA inspections, investigations, and enforcement actions. He also develops and audits safety programs and policies and counsels employers on related risk-management strategies. He has hands-on experience managing accident investigations—including those involving multiple fatalities—and regularly represents employers before, during, and after the OSHA inspection process. Michael regularly contests citations on behalf of employers and negotiates for the withdrawal and/or settlement of citations. With nearly 20 years of litigation experience, Michael is a skilled trial attorney who engages in litigation before the Occupational Safety and Health Review Commission. Michael has tried multiple OSHA matters.
Michael has assisted clients in OSHA matters pending in Alabama, Arizona, California, Colorado, Connecticut, Delaware, Florida, Georgia, Hawaii, Illinois, Indiana, Iowa, Louisiana, Massachusetts, Michigan, Minnesota, Montana, Nebraska, New Jersey, New York, North Carolina, Ohio, Oregon, Pennsylvania, South Carolina, Texas, Virginia, and Washington.
Frequently called on to speak on OSHA legal issues at local and national industry events, Michael has presented at safety conferences hosted by EHS Today, BLR, American Society of Safety Professionals, and Associated Builders and Contractors, among others. He also serves as a guest lecturer at Columbia University in the Construction Management Master's Program.